I just worked JR1EMO on 15m JT65.  Working Japan from here isn't terribly notable.  This one was.  Why?  Because JR1EMO was my first HF contact 15 months ago.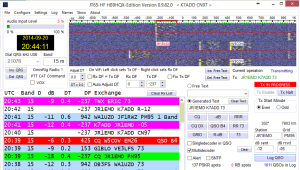 June 27th of last year, right after I got my General ticket, I transmitted on HF for the first time after JR1EMO called CQ on 20m PSK31 (14.070).  I fumbled around to figure out what macros went when, how to make it stop transmitting, and then did a victory lap around the garage-shack.
It's amazing to consider how much I've learned since then and how much joy the hobby has brought me.
After the house remodel/new shack setup is complete, I'll find a prominent place to frame the QSL card he sent me after our first QSO.