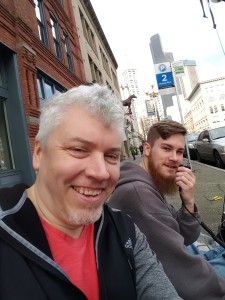 tl;dr: We activated two NPOTA units and the ARRL assessed them as invalid. I agree, but have determined to attempt a valid activation!
---
When the ARRL announced the National Parks On The Air, my buddy Jean (KG7NJQ) and I started plotting and scheming a local activation.  I immediately noticed the two urban locations in Seattle, within 1/2 a mile of each other.
The words "National Park" probably conjures images of big trees, waterfalls, rocky crags and remote trails.  These two "units" qualify as they are managed by the National Park Service, but neither fit that picturesque mold.  The first (Klondike Gold Rush – Seattle Unit – HP22) is a "Historical Place" (though interestingly, all of Pioneer Square is identified as a Historical Area).  The second (Wing Luke Asian Pacific Museum – AA25) is an "Affiliated Area" and also managed by the NPS.  Both are basically museums in downtown Seattle.
We knew from the start that these would be different than most National Parks and most activations and might prove to be more interesting than running mobile in a parking lot.
This year, Microsoft celebrated Martin Luther King Day, for the first time.  I took the opportunity to drag Jean down to Pioneer Square for the afternoon.
We arrived at the Klondike Gold Rush "Historical Place" (that's even what the signs say), introduced ourselves to the rangers, and talked to them about the program.  After getting their approval, we consulted with them on a safe and appropriate location work operate from, then proceeded to set up.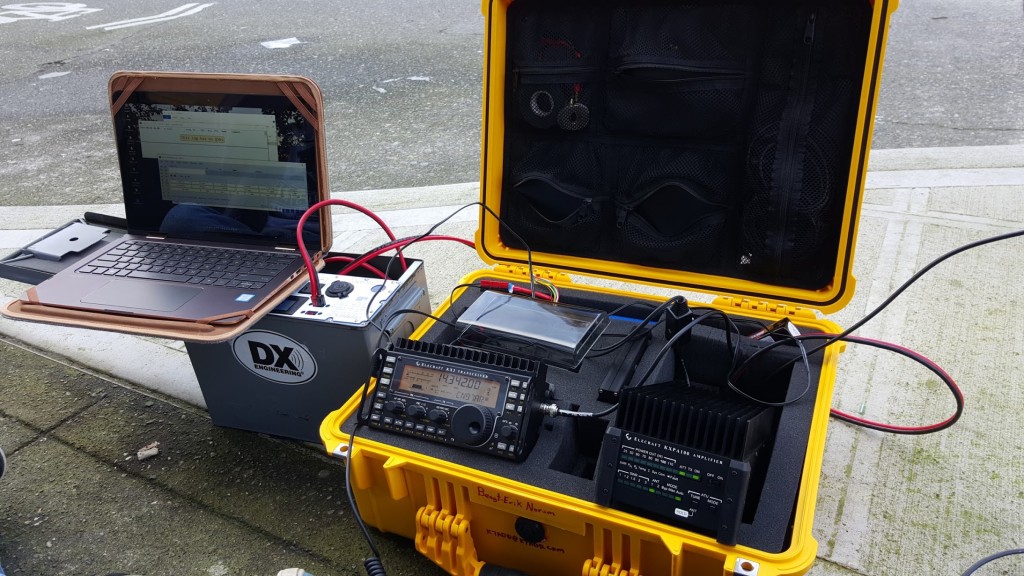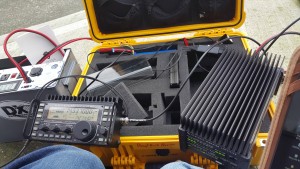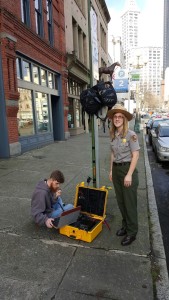 I'd brought my KX3 and KXPA100 in the Pelican case and we used the EARCHI End-Fed 4:1 matchbox (regularly available on eBay) and about 30 feet of Home Depot 16ga THHN wire (maybe 7 feet of counterpoise).  We held the wire up with a 31′ Jackite pole strapped to a street sign.  Jean brought his Hardened Power Systems JuiceBox.  I'll post again. someday, with details of what works and what doesn't about this setup.  On the positive side, we went from "in the truck" to QRV in a matter of 10 minutes.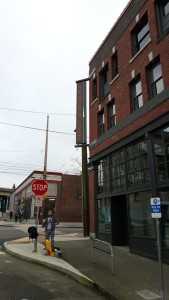 We tuned up on 20m and spotted ourselves (commonplace for NPOTA; withholding feelings about self-spotted DXCC entities for another post).  The pileup got thick and got thick fast.  We didn't expect quite the fervor that the spot brought on.  Over the course of about 60 minutes, we put 62 stations.  The one thing I didn't include in that list of gear, above?  Headphones.  Operating from a street corner with dump trucks, semi trucks, and Toyota Camrys in need of a break job?  Rough.  Especially with that pileup, we struggled a bit.  At least twice, we asked the hordes to QRX for traffic.  Holy CRAP,this was fun.
The rangers took some pictures of us and even asked us to complete photo release forms, as they thought the joint ARRL/NPS promotion was pretty cool.
We wrapped up at the Klondike Gold Rush and walked to the Wing Luke Museum (AA25).  A quick walk later and we were QRV again and quickly had another pileup.  Again, we put more than 60 contacts in the log in under an hour and fought with local AF noise.  Feeling pretty pleased with ourselves, we made our way back to Duvall and had a couple pints at the tavern.
That evening, Jean posted to the Reddit /r/amateurradio subreddit (post here) and we got some kudos from fellow Redditors.  Our friend, fellow contester and the moderator of the subreddit, Jeff –NT1K (and I'll pimp his blog, too), suggested that we post to the ARRL NPOTA Facebook page.  I posted them with a little commentary.  Positive comments flowed all night and into the morning.  Mid-morning the following day, a couple ARRL staffers commented, stating that his was not a valid activation and that we not upload our logs.  What followed was several days of public debate (that Jean and I didn't participate in) and the ARRL reps reiterating that the activation was not valid and would not be accepted.
The crux of the debate centers around a clause in the rules about "operating entirely from NPS property."  Jean and I had wrongly assumed that the sidewalk, where the NPS had placed signage and flyers would count.
There are some pretty crappy attitudes and language being thrown around.  I've taken what I think is the high road by almost immediately accepting the ARRL's decision and fairly publicly thanking them for putting on the event.  Furthermore, I'm taking this as a challenge to solve the problem in the spirit of amateur radio.  We have an immense number of tools at our disposal and I will find a way to activate at least one of these "parks" again (and have them accepted).  Despite this, 3 weeks later, this debate is still sputtering on Facebook.
Over the I spent some time considering the nit-pickiness of the need for there to be a "ruling" on something as mundane as 10 feet of sidewalk for 120 contacts.  I recognize the difficulty of authoring rules for a competition (and this is, despite the ARRLs repeated statement that it isn't) that have stamped out all subjectivity.  The ARRL DXAC (DX Awards Committee) has faced this for the entire history of the DXCC.  I prefer that the contests I participate in (again, this is) maintain high standards on what's accepted and not.  I like having a real sense of achievement when I attempt something and loose interpretation of rules have the potential to degrade that.  In fact, I still feel this way about "remotes" that aren't maintained by the operator (see prior post on the topic) and won't claim a DX QSO I didn't work on my own equipment.
KX9X, ARRL Media and Public Relations Manager, and others have put a lot of work into this event and I'm happy that it's taking place.  Of course I was disappointed that our efforts were determined to be outside the rules, but we had a blast and, again, the fact this these units will be hard to activate will make me happier when I do.
This afternoon, I'd scrolled down around 14.080 to see if I could hear VP8SGI (I couldn't) and ended up working NG1L (good Ham Radio Deluxe tutorials there, BTW).  Brave man was calling CQ amongst the hordes and band cops ("UP IDIOT LID UP").  When I wrapped up with NG1L, I spotted a set of rails just below where we were… it was K0TLG calling me!
HI, I AM WAITING
FOR ALOTW QSL FROM YOU FROM HP22, PERHAPS I AM NOT IN THE LOG…
HAVE YOU UPLOADED YET???

—

NOT MY FREQUENCY (BUT WEILL LOOK REALLY QUICKLY) YES, YOU ARE IN LOG AND HAVE CONFIRM, BUT NOT VALID ACTIVATION. SEND EMAIL IF YOU'D LIKE MORE BACKGROUND. FACEBOOK GROUP HAS DETAILS. WILL BE REATTEMPTING ACTIVATION.
BTU K0TLG DE K7ADD K

—

OK NO PROBLEM JUST WONDERING. WILL LOOK
FOR YOU AGAIN AND TNX DE K
K0TLG SK

—

K0TLG DE K7ADD … UR 599 599 BTW!
WILL LOG THIS, TOO!
73 DE K7ADD SK
His inquiry was enough to spur me into finally writing this up.  For the record, all calls have been uploaded to LoTW, but not with the park designation… that'll happen next time.