[update 4/25: I'm now WAS with an endorsement for 20m. LoTW was update this AM with a little <Awarded> next to Basic and 20m. All this for those little asterisks below.]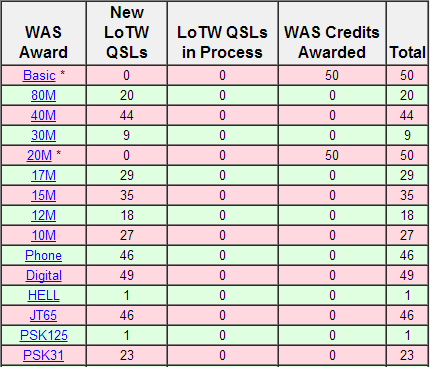 I just applied for the ARRL Basic Worked All States (WAS), 20m WAS, DX Century Club – Mixed, and DX Century Club – Phone. I'm a handful of states away on several other WAS awards, listed behind the break. I honestly hadn't considered applying for them, but when the Logbook of the World (LoTW) page says "50 states", it's hard to resist.
The DXCC application will be a little more complicated. I've got several confirmed DXCC entities that were confirmed by paper card, so I'll need to get those checked before they'll award it the Mixed and Phone. Anyway, this is the start of the wallpaper collection.
---
Basic 50 Confirmed 20m 50 Confirmed Digital 49 Confirmed Missing: VT JT65 45 Confirmed Missing: DE, ID, NV, ND, VT 40M 43 Confirmed Missing: AK, AR, ME, MD, MT, RI, VT 20M Phone 43 Confirmed Missing: AR, MT, OK, OR, RI, SD, WV 20M Digital 41 Confirmed Missing: ID, IA, KY, MS, NV, NH, VT, WI, WY
---